Home > All about absinthe > How to drink absinthe
Showing all messages (24) posted to:
-- By Judy in York PA on Mon, 26 Feb 2007 at 19:33.
We were very disappointed in the taste. Considering how expensive it it, it could at least taste good.
Never again.

But what absinthe did you drink ?
-- By Etienne in Liege (Belgium) on Tue, 27 Feb 2007 at 01:41.
Judy, there is absinthe and "absinthe". You need to get the real thing!! Where did you buy it? Real absinthe is wonderful, drinking it is like..... i don't know. Weird? Different?? ABSINTHE REND FOU! Enjoy!
-- By Leo in Unspecified location on Tue, 27 Mar 2007 at 16:51.
I like the taste, but you must mix it for the flavour to come out in a drink. With water or in a cocktail is the best way to drink absinthe. Do not drink neat as that is not so nice in my opinion. It is important that the herbs suspended in the alcohol is released to get the full tatse.. and to buy a real absinthe.
-- By Jonas in London on Fri, 30 Mar 2007 at 13:26.
What is the best way to drink absinthe? The method described as La Louche seems to be the way any pastis is served. Is it better to drink absinthe in a cocktail, or by setting alight a sugar cube? I first tried absinthe neat.. the taste was raw and it sure it needed something.
never tried it yet...should I???
-- By shanna in canada on Wed, 15 Aug 2007 at 21:43.
Well Ive never tried it yet, but I've researched it and it seems to be something very interesting to drink. I'll let you know what happend and how I felt after drinking it. I wonder if I'll feel the effects of it, the way people stated on the other websites Ive visited. Clearity of the mind, open minded, creative thinking, perseption heightened? I guess I'll find out this weekend!
-- By Miss Em in Perth, Australia on Tue, 28 Aug 2007 at 13:39.
Well, we've just purchased our first bottle of Absinthe and I have just tried my hand at making my first La Louche. . . So far, so good. It tastes delicious, different to anything I have tasted before (and there have been many) and I like the fact that the anise flavour is not overly strong thus allowing perhaps the flavour of the wormwood and thujone to come through. As for the effects. . . . .. .I'll keep you posted!
-- By johnsniff in philly on Tue, 12 Oct 2010 at 17:11.
i like to mix absinthe with some apple cider vinegar and spiced cider with a little honey comb to replace the sugar. its very tasty and covers up the flavors of black liqourish if your not a fan.
-- By Anonymous in Unspecified location on Thu, 14 Oct 2010 at 14:53.
fgfg
-- By Barbara in Portland Oregon on Wed, 14 Mar 2012 at 00:39.
I give many rather lavish dinner parties. I would love to delight and surprise my guests by serving absinthe. Is it best served as an apperitif with appetizers, or as a wonderful end to the meal, as you would cognac?
-- By curious in toledo, ohio on Mon, 28 May 2012 at 20:04.
Would really like too try but I want an excellent first experience so how do I know what brand to buy
-- By Triffid in Maryland on Wed, 19 Sep 2012 at 18:57.
I have yet to try Absynthe, but I just watched a wonderful documentary on the subject which I found on Netflix and I am now very interested. I did some research and I plan to try a brand called Lucid, which I understand is made in the traditional manner. There are a lot of untraditional blends out there. Pernod Fils was one of the first, and largest producers before all Absynthe was banned, but it's current product is very expensive and rare. I would appreciate any feedback, and will give you updates on my experiences.
-- By Triffid in Maryland on Wed, 19 Sep 2012 at 19:06.
I have heard the effects of drinking Absynthe are quite different than those of drinking other alcoholic beverages such as brandy or beer. People describe a clarity of mind and an almost euphoric sensation. One individual says it is not unlike drinking two shots of bourbon followed up by smoking a joint! Intriguing!!
MOST AMERICANS ARE UN-INFORMED!
-- By C3 in U.S.A-PA. on Thu, 20 Sep 2012 at 12:02.
Take no offence! I am American myself....it is not uncommon for alot of Americans to know little if anything at all concerning Absinthe. To begin with; Absinthe hails from Europe;and was most popular with The French way back in the 1800's!!! Dont forget it was banned nearly World-Wide for about One Hundred Years and has only recently been resurrected! But; come-on Yanks;...theres 100's of web-sites! Learn alittle.............
-- By frank in U.S.A. on Sat, 9 Feb 2013 at 04:14.
There's more than one tradition that i'v found on the web, my favorite is pour two ounces of absinthe over the sugar that's on the spoon then light the sugar on fire after the flame goes out then drop the sugar into the glass and pour the water stir! enjoy!
-- By Willow Pearce in UK on Thu, 21 Mar 2013 at 10:08.
Setting fire to absinthe is something done in the movies not in real life. Americans tend to want to re invent absinthe drinking and preparation. Do it like it was drunk 100 years ago and stop boring us with big screen BS.
-- By theresa fry in lewistown,pa,usa on Fri, 26 Apr 2013 at 15:16.
i was told that this drink is like taking acid that it gives you the affect of hullucinations someone said they saw a girraffe , ya right i said i dont know but im willing to try it but its sooo exspensive here in lewistown state store that now i have to save up to get it im looking forward to trying it though so im hoping it will be soon
First Time With The Green Fairy
-- By Dean in PA on Thu, 14 Nov 2013 at 02:45.
The first time I ever drank Absinthe I knew almost nothing about it except I had heard a rumor that it was what inspired Van Gogh (and also what contributed to his madness). My buddy and I stole the bottle from his parents liquor cabinet and dumped about 6-7 shots worth in our glasses. We didn't know any better, at that time even thinking it was still illegal. Immediately after we drank we started to realize how different it was from any other type of alcohol. I fell in love with the green fairy that day and I have made it my mission drink it like the poets used to for inspiration. It is truly divine.
-- By Miraculous VI in Colorado Springs on Sat, 31 May 2014 at 06:02.
1.5 shots in a tall glass half filled with ice.
1 cup of Pineapple juice
1-2 cups of sprite
torch the 1.5 shot of absinthe to flame
pour slowly as desired into glass with the amount of desired ice, pour in the citrus pineapple, then fill the glass up with sprite. slightly stir and you have a sweet yummy mix that is out of this world.
-- By amila in Galle,Sri lanka on Thu, 20 Aug 2015 at 15:21.
it was awesome. ihave tried it when i was in dubai,czech republic when my every friend is coming from dubai i have told them to buy a one from dubai to sri lanka.but i want to know why it is prohibited in some countries.amila.rathnayake@hotmail.com
-- By Smithd230 in Smithd230 on Sun, 20 Dec 2015 at 17:12.
This really is actually fascinating, That you are a quite specialist blogger. Ive joined your rss feed and sit up for looking for more of your excellent post. Also, I have shared your web site in my social networks! aekffgecdecdgffe
-- By Smithb564 in Smithb564 on Sat, 15 Oct 2016 at 09:35.
Wonderful work! This is the kind of info that are meant to be shared across the internet. Disgrace on the search engines for not positioning this post higher! Come on over and consult with my website . Thank you fegefeddbcebdbkc
Absinthe is great with Egyptian Licorice Mint Tea!
-- By Patty in Astoria, Oregon on Fri, 6 Oct 2017 at 22:48.
I get my Absinthe at a local distillery, Pilot House, here in Astoria. During the fall and winter it is my go-to beverage in the evening. Brew up a steaming cup of Yogi Egyptian Licorice tea and add a tot of Absinthe. Heaven!
-- By Sean G in Texas on Sun, 10 Dec 2017 at 17:06.
My favorite way of drinking absinthe, is on the rocks. Throw a few ice cubes in a glass and pour in the absinthe, then i usually swirl it around for a minute until it gets a little milky looking then enjoy. I think absinthe is already sweet enough. And for those who think it's disgusting, it might not be for you, or you might of had a bad brand, I have had some I could hardly drink. But a good absinthe is one of my favorite drinks.
-- By James in Texas on Thu, 11 Jan 2018 at 14:42.
Back in the mid 80's, I was in college and tending bar at a high-end club/hotel on San Antonio's Riverwalk. Heavy Metal was King, and there wasn't a great deal of...civilized drinking behavior going on. It was the Age of Excess, and we (myself included) loved it.
I did get a few regulars from Europe who wanted Absinthe and they quietly brought in their own bottles- I didn't ask, as-again- it was the 80's. One of these regulars taught me the various ways to serve it, and several of them gave me Absinthe in appreciation for my service. I found that I enjoyed it like so, myself: a double shot of Absinthe in a champagne flute, with 1/2 to 1 shot of Rumple Minze. Stand a sugar cube in maraschino cherry juice (only about 1/16" deep) until it wicks it all up and turns a uniform red color. Let it set for about 2-3 minutes to do so, then drop it in and add cold sparkling water to taste- I use color to determine the proper amount of water, aiming for a sort of golden green. (This takes some experimentation)
I came up with this over about a year's time, experimenting with various ingredients. "Purists" will scoff, but give it a try, you might be surprised.
I called it "Manslaughter in the Morning", as a sort of play on "Death in the afternoon".
Enjoy!
Copyright © 2006 AbsintheFever.com Contributors.
All Rights Reserved.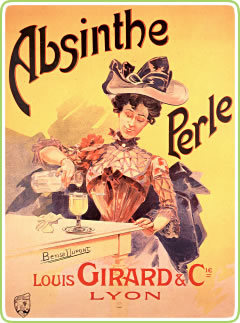 Drinking absinthe the original way: dilute with chilled water which you slowly pour into your glass over a cube of sugar. Other ways to drink absinthe were invented since the time of this classic promotional poster by Bensa-Dupont. (Picture: Bibliotheque Forney, Paris)

About the ways to drink absinthe
The Buy Absinthe .Net guide has further tips on how to make a glass of absinthe in the traditional French manner, plus some amusing pieces of trivia about the absinthe-drinking culture of the 19th century. The same page also gives recipes for a few classic absinthe cocktails you might want to try. 'Death in the Afternoon' anyone?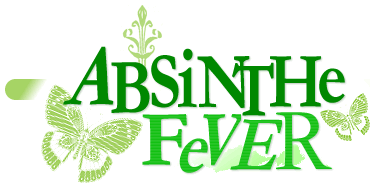 Questions about absinthe answered... plus open forum.
How do I drink absinthe?
What is "La Louche" ritual?
What is an absinthe fountain?

The freedom-loving Green Fairy...
Goddess of rebel poets & artists


in France and beyond
P_/absinthe/drink/forum/post the ways to drink absinthe