Home > All about absinthe > Green Fairy: The symbol of liberté
Showing all messages (16) posted to:
-- By Bobby Klein in The Middle of Nowhere on Sat, 23 Jun 2007 at 22:41.
I noticed a post on the thujone page by the band The Absinthe Drinkers (http://absinthefever.com/thujone/forum/0027) and once I finished reading it, immediately wanted to find out more about this truly unique band.
After doing a little more digging on The Absinthe Drinkers, I found a very cool YouTube video that was loaded by the band. Since this section is dedicated to the Green Fairy and all the great things that it has inspired, I thought this would be the best place to post the video.
I'm going to try to embed the video, but in case that doesn't work, you can check it out at http://www.youtube.com/watch?v=k1e4GIsWxFA
<object width="425" height="350"><param name="movie" value="http://www.youtube.com/v/k1e4GIsWxFA"></param><param name="wmode" value="transparent"></param><embed src="http://www.youtube.com/v/k1e4GIsWxFA" type="application/x-shockwave-flash" wmode="transparent" width="425" height="350"></embed></object>
-- By electraglide in ENGLAND on Sun, 30 Sep 2007 at 16:50.
absinth -
make the heart
grow fonder
an old chestnut no doubt


sunbeam_city7@hotmail.com
-- By Toemoss in USA on Tue, 11 May 2010 at 21:09.
Ah, alas! while America is the land of the free & the etc., etc., etc. We must drink Absente' (sans wormwood) or one offering of Absinthe, Lucid. One is better than none!
High in the Rocky Mountains, high, Le Fee whispers with the pines & brooks, of scenes, rhyme & songs. Just a drop more cool spring water & the layers of life will be rife with rhythm! Weep not for me, Argentina!
-- By Jerry in Philadelphia PA on Thu, 30 Sep 2010 at 18:00.
See an interesting video by Mayer Hawthorne named Green Eyed Love.
-- By Della Roth in AUSTIN, TX USA on Wed, 20 Jun 2012 at 16:32.
Just as Dandelion Tea & Wine are used for Cancer Treatment, Absinthe is of the same plant strain.
LYSIS OF ENZYMES: When Enzymes of one species (plant) neutralize, Enzymes of other species (cancer is viral parasites).
TCM Traditional Chinese Medicines, & Ayurvedic from India, University of Medicine @ Houston, and Israel, are using Phyto-chemicals to kill Cancer cells. Pomegranate had great results and Scientists are also trying Wormwood. Ojibway Indians brought these herbs from Asia 1,000's of years ago. One of them gave a recipe to Nurse Caisse to treat a cancer patient and she turned the name around to spell: ESSIAC which is now one of the best cancer meds to treat cancer. It kills the cancer cells not the patient. Graviola, ALSO GREEN BLACK WALNUT HULL Tincture, Whole CLOVES, & WORMWOOD, are also being used with great results.
-- By C3 in U.S.A-PA. on Thu, 20 Sep 2012 at 20:50.
Who can say with utter certainty;who or what "The Green Fairy" is meant to represent? To Me personally; She is the personifacation of "CREATIVITY UNLEASHED" through the partaking of questionable potions ( or poisons )............The Green Fairy is just another more "innocent" and "imaginative" way of explaining the creative drunken stupor brought about through the rational consumption of Absinthe; that "Magical Elixer" of the Imagination !!!
-- By Benjamin Brewis in Oxford, Uk on Fri, 28 Jun 2013 at 00:01.
The Green Faery does it's wishful thinking ahead of the pen.
A stream of patterns, held together like a rope of pearls, rushing ahead as the head makes way. Light work is made as the (th)ink flows forth.
Once known she will stay with you, but you have to prepare yourself for her, in mind and action.
-- By The Green Editor in San Francisco on Fri, 12 Sep 2014 at 06:29.
There is a new feature-length documentary about absinthe in the works, called The Green Fairy .. http://www.imdb.com/title/tt3103620/combined
-- By Amy Lewis in Cape Coral FL on Thu, 7 Jan 2016 at 17:40.
I had wanted to try absinthe for a long time, and asking at my local liquor store I was surprised that they had it, and bought a bottle on the spot for about $45. Upon getting it home I googled it, finding that it was not even real absinthe, didn't have wormwood in it, and was a poor imitation. This was Absente Absinthe Refined. Don't buy that stuff! In disappointment and resentment I immediately went out online and found the real thing, ordering a bottle of Absinthe Jade L'Esprit d'Edouard, and a bottle of Absinthe Jade 1901. I have a nice Absinthe spoon and glass on the way as well, and can't wait for my first real taste of real absinthe. I intend to collect it and keep several high quality bottles on hand, to include Jade VS 1898 absinthe, Jade Nouvelle-Orléans, Roquette 1797, and one I'm most curious about, Blanche Traditionelle Brut d'Alambic.
I'm all done messing around with the rip offs. I'm going to do this right! Once I have the real thing in hand, my fountain and everything ready I'm going to introduce myself to real absinthe the proper way, picking the right time for it, perhaps with a good friend.
-- By Advertising Student in Phila. PA, USA on Sun, 14 Feb 2016 at 06:46.
I am conducting a survey to gain insight about absinthe drinkers and people who know (or don't know) about Absinthe for an advertising assignment focused on the drink. If you have some time, please take a few minutes and take my survey. Help a Senior College student out

https://docs.google.com/forms/d/1L9tUFca4pwDwegWedUe4FqVk6ZHOe7hrPRZrvoC5EuM/viewform
-- By Sky in NJ, USA on Thu, 19 May 2016 at 17:17.
I recently went to the Steampunk World's Fair as Absinthe, the Green Fairy.
http://steampunkworldsfair.com/
The Fair is a fabulous thing, by the way; Absinthe tastings, Absinthe parties, and Absinthe chocolate and lollypops...I highly suggest it to any Absinthe lover.
Find me on facebook: Sky Ironvane to see my costume pics, join the Absinthe Alliance (against Tinkerbell) and stay informed about my up-and-coming graphic novel series which tells the story of the green fairies, Abby, Cynthia, their cousin Chartreuse. <3!
-- By Skyking in Frost, TEXAS on Fri, 27 May 2016 at 06:17.
No one seems to want to talk about Her taste, her flavor, her soft silky kiss that stays on my mind through the night, and well into the next day, until we caress again. I want those lips on my lips forever. I can't stop thinking about her, until we embrace again. She is warm, and inviting, and always available to satiate my need to possess her sweetness. To feel the brush of her lips on my lips, and my tongue, and into my mouth. She is always glad to be with me, and I with her. Ours is a love that will .................................................
-- By Fred in Houston on Fri, 24 Jun 2016 at 20:59.
Opening channels of the mind ...Startling journeys in the discovery of the true self...Creative inhibitions ...fly away...

-- By Heathen Jabber in Texas on Wed, 28 Sep 2016 at 17:49.
The power of Absinthe is not in the liquor itself, but what is within the sugar cube you melt into it when preparing it.
-- By Blanche in Maine on Sat, 22 Sep 2018 at 07:29.
There is an interesting reference to absinthe and "The Green Fairy" in Truman Capote's Music for Chameleons. It is a series of short stories. The particular story involves Truman sipping absinthe (with mint) on the terrace of a grand lady's home in Martinique. It is a delicious book, read it! and just about anything else he wrote. Such talent does not seem to exist today, where every "great" new writer is hyped up by a legion of tweets. RIP Truman, Gore and all the greats, your legacy lives on in this noisy vulgar age. Start with Other Voices, Other Rooms if you are not familiar with his writing. Enjoy!
-- By Marieann in U.S.A. on Fri, 21 Dec 2018 at 20:17.
There is a curious connection between St. Bernard, Wormwood, and absinthe. And don't forget the Biblical connection to Wormwood. I am still trying to find more info on the subject.
Copyright © 2006 AbsintheFever.com Contributors.
All Rights Reserved.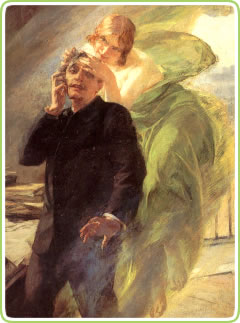 The Green Fairy works her magic as she delivers inspiration to the mind of a poet. This romantic depiction of the Fairy's powers was painted in 1895 by Albert Maignan; it is entitled 'The Green Muse'.

About the Green Fairy
Where there is a will, there is a way, and folks do go out of their way for a chance to meet the "Goddess" -- like the guy who claims the Green Fairy can be summoned by soaking wormwood in alcohol. Well, no, it cannot... sorry, but it just doesn't work like that. Unless you own a still, there is no way you will ever make real absinthe at home.
(I'm beginning to wonder why we called this part useful links...)
Anyhow, let's move onto the useful / interesting stuff... This page would not be complete without mentioning MsJekyll's Green Fairy page. A modern-day absinthe icon, MsJekyll published an absinthe website years before the current absinthe revival. Been there, done that - well before the current bunch of absinthe 'experts' appeared on the web. Don't miss MsJekyll's poetry - dark but beautiful.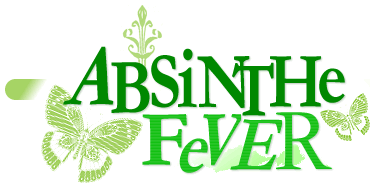 Questions about absinthe answered... plus open forum.
How do I drink absinthe?
What is "La Louche" ritual?
What is an absinthe fountain?

The freedom-loving Green Fairy...
Goddess of rebel poets & artists


in France and beyond
P_/green-fairy/forum/post the Green Fairy