Home > All about absinthe > What is wormwood?
Showing message 15 of 20 posted to:
medicinal use
-- By annima in alabama,usa on Mon, 30 Jan 2012 at 17:48.
i have found from experience that wormwood has wonderful anti spasmodic properties. i have been using it to help with the side effects of my severe scoliosis. it does have a horribly bitter taste to it, but it is well worth it.

Show all messages (20) posted to
the "What is wormwood?" page
Copyright © 2006 AbsintheFever.com Contributors.
All Rights Reserved.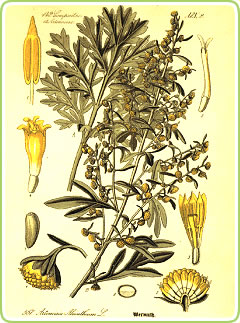 Wormwood is a plant that has fascinated humanity since the days of the Romans.

About the wormwood plant
The Vaults of Erowid site has a section about wormwood with information, photos of the plant and even experiences by people who have "experimented" with wormwood.
Wormwood tea anyone? The Golden Harvest Organics site has the recipe (the tea is to be used as a natural insect repellent, not drunk!), plus some tips on growing and harvesting the plant.
Purdue University's Center for New Crops & Plant Products has a short entry on wormwood that gives its common names, habitat and desription.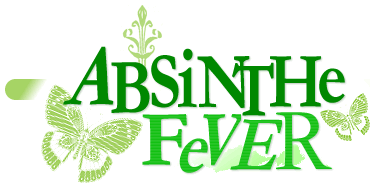 Questions about absinthe answered... plus open forum.
How do I drink absinthe?
What is "La Louche" ritual?
What is an absinthe fountain?

The freedom-loving Green Fairy...
Goddess of rebel poets & artists


in France and beyond
P_/wormwood/forum/post the wormwood plant