Home > All about absinthe > Absinthe an aphrodisiac?
Showing all messages (6) posted to:
-- By Bethany in Wouldn't You Like to Know on Sat, 23 Jun 2007 at 23:21.
As a woman, I think I can bring a unique perspective to this topic. Regardless of what science or anyone else concludes, I know that an evening of absinthe always puts me in the mood for a romantic encounter.
To get the full aphrodisiac effects of absinthe, I think it is very important to make the drinking of absinthe an event, not just an experience. If you and your partner gulp down a couple of glasses and expect to have an extraordinary evening together, you are going to end up disappointed. However, if you take the time to make your evening a special experience, no doubt will the Green Fairy take over Cupid's role for the evening

Guys, if you still need help, let me spell it out for you: Put a couple of comfortable pillows on the floor next to your fireplace. Get your absinthe and two cups and place them in the same area. Light the fire and turn on some music (smooth jazz is always a winner). When your special lady arrives, you can both sit down by the fire and begin your absinthe fueled evening. As the absinthe goes down, the conversation will continue to flow naturally, and before you know, you will both be under the spell of the Green Fairy!
-- By Mark in Melbourne, Australia on Mon, 23 Aug 2010 at 10:27.
My partner had heard about Absinthe and decided to give it a try, she had a capful mixed into a glass of lemon lime and bitters and vodka. Over two hours she had three or four of these and the results were amazing, the bottom line is I have never seen her so uninhibited and sexually self expressed, she just wanted more and more and was open to anything, she basically became a really horny, sexy being. She has never been like this just from normal alcohol. As a result we have become devout advocates of Absinthe and only use it on the odd occasion as I think she would kill me if we used it all of the time. (lol)
-- By Ken,th' ol' Desertrat in El Paso Texas USA on Sat, 19 Nov 2011 at 06:10.
Long ago, about 1964 while vacationing in the South of France I was given a large glass of abbsinthe. I was sexualy arroused for about an hour. About two years ago I learned that absenthe was available in USA. I have become an avid friend of the Green Farie.I do not experience as much sexual stimulation as in 1964 but I am 80 years of age now. LOL. Todays absenthe does enhanse sexual stimulation and enjoyment a great deal. I am very pleased with my experiences this past two years.

-- By Dee Dee in CA on Mon, 26 Dec 2011 at 09:26.
I recently returned from a Girls 50th Birthday weekend in Las Vegas, a group of 4 close friends celebrated turning 50 this year. We enjoyed a delicious dinner at one of the hottest restaurant/nightclubs on the strip and decided to check out the nightclub scene after dinner... Two of the ladies in our group took one look at the much younger crowd and decided that this just was not the place for them. On the other hand, the younger scene intrigued me...
so me and my friend decided to stay and check it out. It did not take long to get scooped up by the most beautiful specimen of a man that I have ever laid eyes on!! It was as if we had met or known each other forever, perhaps in another lifetime... the moment we laid eyes on each other the chemistry was so magnetic and intoxicating, we instantly started to make-out, he was all over me exploring my body from head to toe. I was so caught up in his seduction, I was spellbound, as far as I was concerned we were the only people in the club. I was completely sober during this encounter... He asked me what I would like to drink, I said I will have whatever you are drinking~ Absinthe
Such a magical Green Fairy she is, I have truly met my match for 2 glorious days this 25 yr old perfect specimen kept me satiated. Looking forward to our next encounter ... He will be coming to CA. on a business trip next month

-- By Robert in London, England on Mon, 24 Sep 2012 at 13:32.
I first tried Absinthe a few years ago in Spain with the wife. We literally had sex all night, all over the resort and i had an erection like a 15 year old, as soon as it was down it was up again, It would not go away. The wife was wild.. Highly recommended for wild nights!
I Know Why Oscar Wilde Loved the Stuff
-- By K. Wilde in New York, NY. USA on Tue, 7 Jul 2020 at 12:54.
To set the scene, it was my twenty-first birthday. I had gone with a boy I love to this lavish bar in Manhattan. I had read about absinthe in Oscar Wilde's writings and in Victorian literature (which I am currently studying at University) and there must have been some reason that my middle name is Wilde because I also swear by the stuff, I, too lay at the mercy of the Green Faerie. Now, this topic is more so a highlight of how Absinthe is an aphrodisiac, and I'm not going to spare anyone any delightfully wicked details, but I will, however, be...well-behaved with how I tell the story. To Continue, I was with the boy I love, and it was both of our birthdays so we went to a bar in Manhattan-- I knew from the start that they had Absinthe and that was one of the main reasons behind going, other than celebration. We made a big show of our birthdays, we got a cake with sparklers, and people around us stared as we balanced the sugar cube on the spoon and drank like lavish hedonists, giggling and hiccuping like bright young things do. Now, truth be told-- I'm both a lightweight and quite the nymphomaniac. Absinthe didn't help with either. Firstly, I came in a slow blanket of intoxication and euphoria, almost as if I had smoked marijuana and I was slowly starting to feel high. Then, suddenly, while looking across the table to my person, I had began to hyperfocus on the little things about him, his eyes, his suit, his smile. The way he sipped his own drink and the way we smiled at each other in a drunken haze. I started to feel a bit turned on just by looking at him. I pulled my dress down a little bit and fidgeted with it a little bit to try and distract myself, and my boy even noticed the blush I had on my cheeks and noted that I was giving him the (his own quote) "Fuck Me Eyes". I suppose I was and I was starting to succumb to the drink itself as it were. I began to sway a little bit to the music of the bar and the rhythm and chatter of the crowd around us, conversing at the tables around us. Suddenly, I felt the familiar fluttery feeling between my thighs, and in my stomach. I mentioned in passing that I wanted to make out with my date right then and there and he said "Well, we're in public, and at a rather fancy place... so, we're going to have to wait." and then I realized that I couldn't take it anymore and I was extremely aroused, so I excused myself to the Ladies Room to "powder my nose" and luckily for me, being in an opulent bar in Manhattan had it's perks, especially when it came to the intimacy of its lavatories. It was personal rooms with soundproof walls and the music was much more loud and pumping in the restrooms than they were in the dining hall. I thanked the heavens for such privacy. Never before have I have I wanted to... /relieve my own arousal/ in a public place. However, I was under the spell of a powerful beast, and I was technically in private, so I gave myself a pass.
My God, did I relieve myself.
I don't think I had orgasmed so hard and so frequently at once in my entire life. I was so sensitive and everything was so heightened-- I was certain that I would be too loud. Despite being able to hardly grasp onto self-control, I finished one last time, cleaned myself between my legs, flushed the toilet, and washed my hands thoroughly. I returned to my lovely man who was looked at me, concerned, asking why I had been so long in the restroom and if I was alright or ill.
I was more than alright, and my only sickness was pleasure.
Copyright © 2006 AbsintheFever.com Contributors.
All Rights Reserved.
Does absinthe possess any aphrodisiac powers? This remains a hotly debated topic, though this classic poster for H. Deniset, a Pontarlier-based distillery, does suggest the company of the other sex becomes more pleasurable under the wings of the Fairy. (Poster: Musee de Pontarlier)

About absinthe's aphrodisiac qualities
No related resources regarding absinthe's aphrodisiac qualities are currently available.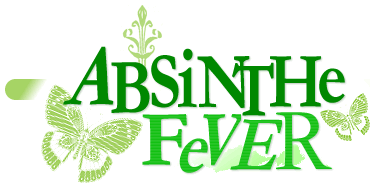 Questions about absinthe answered... plus open forum.
How do I drink absinthe?
What is "La Louche" ritual?
What is an absinthe fountain?

The freedom-loving Green Fairy...
Goddess of rebel poets & artists


in France and beyond
P_/absinthe/aphrodisiac/forum/post absinthe's aphrodisiac qualities